First, thanks for hanging in there while I'm unable to attend to my blog. It's the little things, like a power cord that no longer works. What a pain, I used up all my battery power and now my laptop is just a big paperweight.
I'll get another cord but I'm trying to live without it. This will be the 3rd one!
I can play on the internet though with my little playbook (which until this point was just for reading Kobo books) but it's not really helpful for taking photos and then putting them on my blog. I need a real keyboard in my life for that.
So I will pop in when I can (when I am on a real computer) to try and update you on what's up with me.
One day, about a month ago, I walked into our local quilt shop and didn't even make it down the stairs. Hanging along the wall were these amazing new panels. Full of lightning and fire and brimstone. I was hooked. I immediately took one home and played with it.
The Raven is our territorial bird. They are everywhere. They talk to you, they follow you, one used to sit outside my window at work (3 stories up!) and watch me eat my sandwich. Thinking one day, just one day he'd be able to snitch it.
I decided to applique a raven onto this panel. The cliffs reminded me of the clay cliffs surrounding Whitehorse, and our lovely canyons. I added some pieced blocks to represent lightning and the log cabins along the bottom represent home. I've been calling this one Racing The Storm Home. Will it keep that name? Not sure, we'll see how it talks to me when I'm done the quilting.
I've been handquilting the lightning. What a job! Once that is done I'll do the rest on the machine. Otherwise it'll take me till next summer to finish!
So here it is...I just think it's so cool and so me. Definitely not a bed quilt.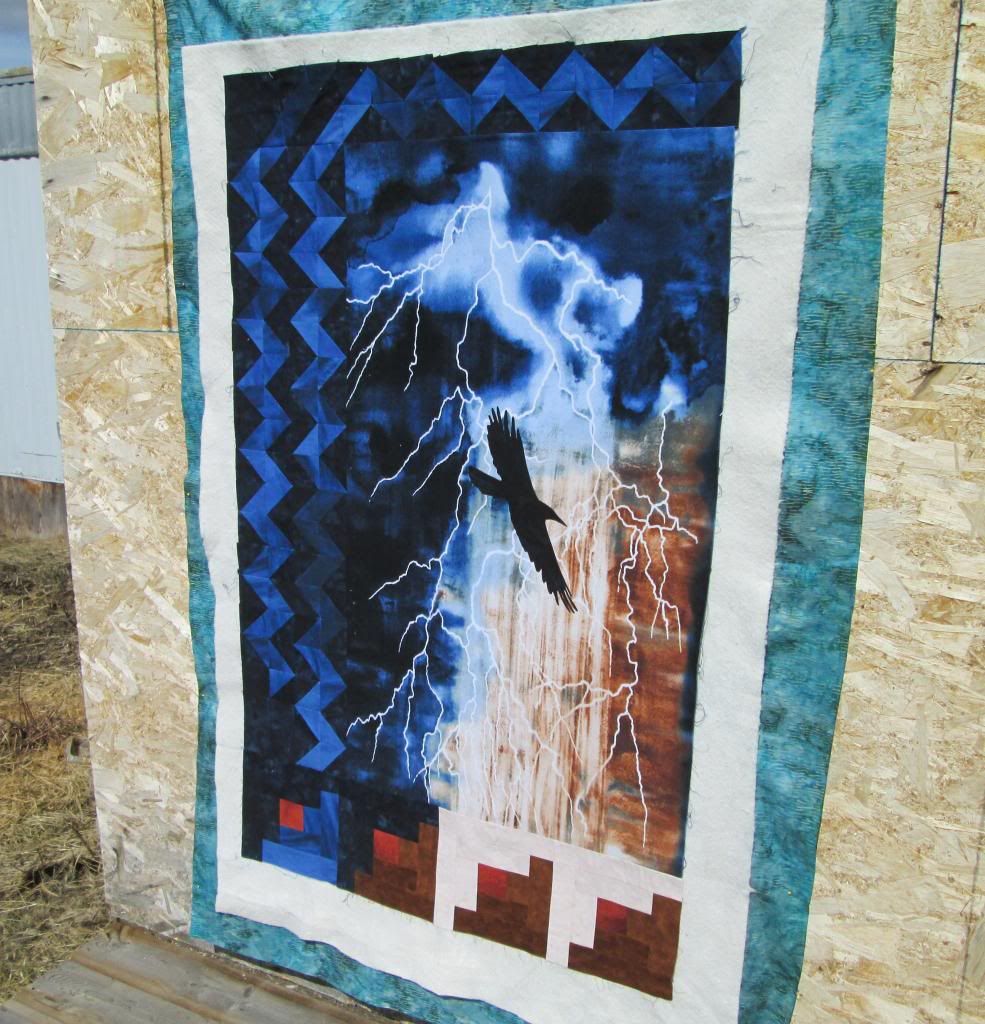 Thanks for stopping by!
Vivian