As you can see by the button on the left, I've joined with others in an effort to start at least one new project a month. It can be small, it can be big, you may never finish it but that's ok, what's important is that you are playing with fabric.
You can read more about this challenge at Cat Patches
BLOG!
I've already accomplished my goal for January by starting a quilt with my Sakura Park. Yay me!
I was in such a creative groove, I pulled out a UFO that has been haunting me. Yep, I have UFOs that haunt me. But I was brave, pulled up my socks and went to work.
A few years ago, I took part in an online quilting bee and used as my block the Disappearing 9 Patch. I was new, the fabric appealed to me and I didn't want to do something over my head.
Well after I received the blocks back they sat in a little baggy unused. Well wait no more! Yesterday I pulled these blocks out and ironed and trimmed and sewed them together.
Unfortunately a couple of the blocks I couldn't use. I really am not wanting to come across as negative but a couple of the blocks pretty much fell apart in my hands and were a bit wonky. We were all beginners during this first quilting bee so I'm not upset about it, I put the blocks in my scrap bag to selvage for a future project. They'll get used somewhere, sometime.
That left me 7 squares so I did up another one to make an even 8 and sewed them together. In my head I was thinking table runner.
It's not as wonky along the top as it seems, it's just how the wall held the fabric, pulling it a bit.
After sleeping on it, I came to the conclusion I didn't want it on my table!! The fabrics I used were not really in my taste. Very plain, very boring. But you know what? What did I know when I first started quilting? Absolutely nothing.
After speaking with my sister this morning, it's purpose came to me. She needs a dog quilt for the backseat of her new car!!!! Wahoo!!!!!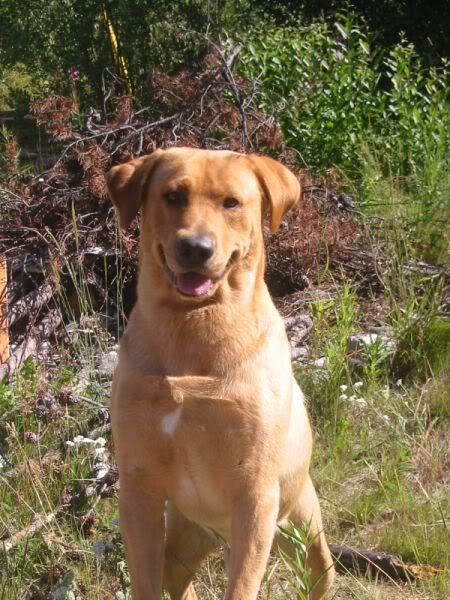 Here's Bailey. He's a pretty big boy so I can imagine he pretty much takes up the backseat of my sister's car.
I am challenging myself to use this UFO and create a car quilt for Bailey. The quilt is wide enough for the backseat, I just need to create some height to go up the back of the car seat. This could be fun!
(and a good way to get rid of fabric I no longer like...shhhh don't tell anyone I said that)
Happy Friday!
Vivian