Yesterday I gave in to my urge and pulled out my Sakura Park fat quarters.
Have you seen these? They are just so lovely, so pretty and pink, and absolutely not anything I have been attracted to in the past.
I picked these up early in December and have been holding off using them until after the holiday rush. Actually I was thinking that this would be the perfect material to bring in Spring, but I couldn't wait that long. I held out to January 2nd. I pulled out some pale pink and pale cream grunge fabric to go with it. I'm thinking many many 9 patches. After many hours at the sewing machine yesterda, I am very pleased with what I've accomplished. I'll show you tomorrow!!!
Why am I feeling the pull towards something with a vintage or shabby chic feel? I don't know if that's how you see vintage or shabby but for someone that runs towards the bolts of bright fabrics that make me laugh, this fabric feels shabby chic to me. I can practically hear children's laughter and the warmth of the sun on my face when looking at these fabrics.
Maybe I'm getting cabin fever LOL....this winter is too cold and too long already!!!!!
And look!!!! Apparently someone thought I was a good girl this year and brought me a Sakura Park jelly roll to play with for Christmas!!!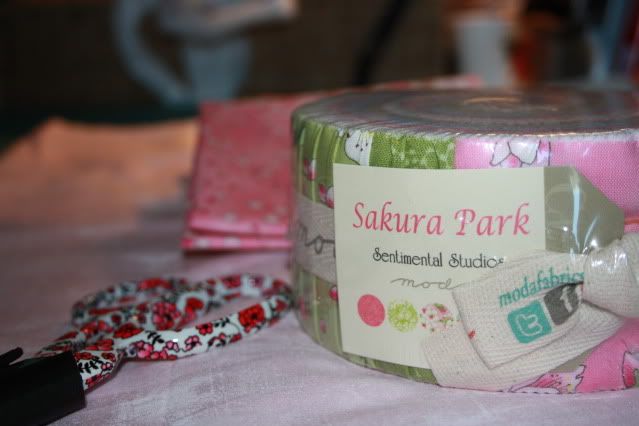 I haven't even removed the plastic yet I'm so in awe of it. I get to make two Sakura Park quilts!!!!! Any ideas on what to do with the jelly roll?
By the way, did you notice the amazing shears? Yep, my other half picked me up a pair of Gingher shears for Christmas too. I just love to hold them.
Wait a minute, crazy woman with cabin fever walking around holding shears...not a good look. LOL!!!
After my marathon session at the sewing machine and ironing board yesterday, I relaxed and picked up my new cross stitch project that I started on January 1st. After two evenings I finished the tombstone! All in all, 2013 is feeling very creative to me.
Grimes Ghost - WIP 2 evenings
Have a good one,
Vivian