I have to show you what I did today.
I had 9 fat quarters of Sakura Park. I cut them longways into 2.5 inch strips. I had a metre of pale pink Grunge. I cut that into 2.5 inch strips WOF and then cut the WOF in half so my lengths would match the fat quarter lengths.
Then I pieced...I wanted a scrappy look so I put one Sakura Park fabric on one side of the pink and a different one on the other side.
I honestly had no clue and didn't even think about how many 9 patches this would make. It's a lot!!!!! I think I'm at 63 and that is only because I miscut one little grouping at 1.5 instead of 2.5 inches. Fortunately I have extras of the Sakura Park strips so if I get bit more pink grunge I can keep on making blocks.
I didn't plan anything other then to ensure that whatever I used for my middle square on the 9 patch, it didn't touch another of the same fabric. I just laid out my sections and picked and grabbed at random.
That's a lot of pressing at the ironing board!!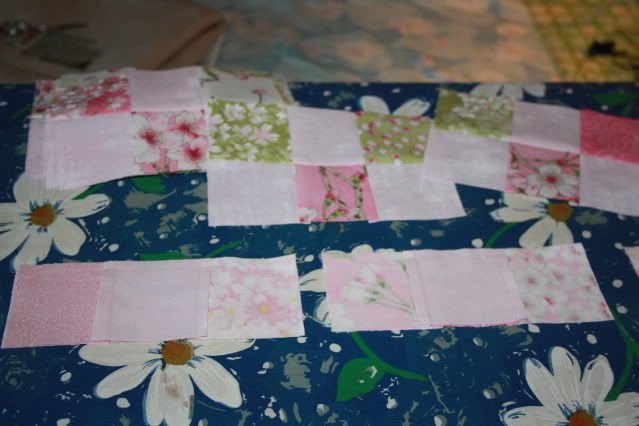 I can't get over how pretty these fabrics are!
Oh I love them up on the wall. And look at the pile still left to go up!
My plan was to use cream grunge for the background squares inbetween my 9 patches but after placing some up on the wall it just didn't work. The cream turned yellow.
I didn't like it. So this project will now have to wait, as I need to visit the quilt shop to find a fabric for between the blocks, which really bums me out!!!! I was so on a roll.
Saturday will come soon enough though, it is sign up day for Winter classes so I'll be there with my class schedule in one hand and my "mom calendar" in the other.
Since I can't work on this any further for now, I did something not like myself. I pulled out a UFO. Yep...I have UFOs. Too many to count. So I've pulled one out and I'm going to work on it tonight! It's not a full size quilt so don't get too crazy, but it'll be nice to finish it up and use it, maybe over a table or something. It'll keep my feet warm if nothing else.
See ya later friends!
Vivian