No I haven't disappeared, I am still here!
Sorry it's taken so long but my laptop isn't holding up it's end of the deal, I think it's on it's last legs. I've been using hubby's little blackberry playbook he bought on boxing day last year. It's perfect for surfing online and checking emails (plus there is a KOBO app so I can read books!!!). It's just a pain to post to my blog as I haven't yet worked out how to post pictures using it. And if I can't show pictures what's the point!! It also has this annoying feature of trying to guess what word I want to use, and then when it thinks I've used the wrong word changing it out for something totally different. If you could only hear the conversations I've had with that little playbook.
Fortunately the lap top is cooperating this rainy morning in the Yukon so I'm taking advantage and showing you what I'm currently working on.
I started this BOM a while back. It's called Scandinavian Rose by Rosalie Quilan and is available through
Valerie at Pastimes Online
.
I chose teals as my colour and Valerie found me this beautiful thread called Caribbean by Weeks Dye Works.
I'm on Block 4 (there are 14). I know it doesn't seem like much but there is a lot of stitching on these pieces. Please check out
Rosalie's blog
to see her own quilt. I'm saving my patchwork until I have several blocks to do at once. I know some people will add the patchwork before they stitch but I find with the way I stitch, my fabric tightens up and I don't want to distort the block.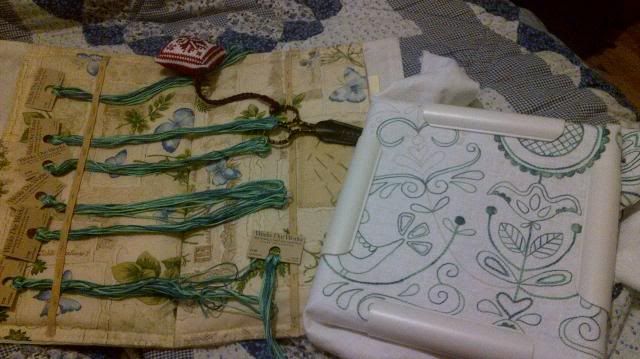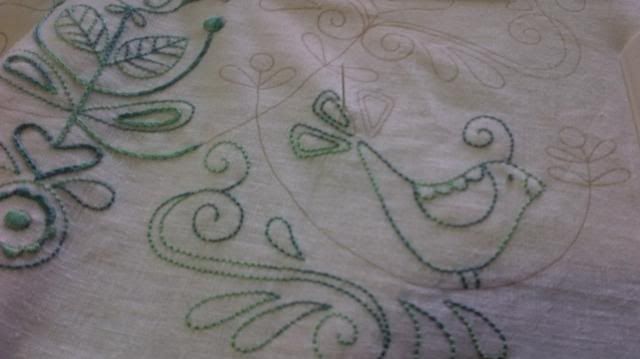 I'm also working on a new pattern by
Maple Island Quilts
called Stackables 2. I'm using some fat quarters that my sister and brother picked out for me by
Parsons Gray
. David Butler is Amy Butler's husband. Can you imagine how creative their household is??? Blows my mind.
I've also pulled out a cross stitching UFO that wasn't going anywhere. I had a choice, take it off the frame and let it go live with someone else or get back to stitching on it. For the moment I've chosen to get back to stitching on it. It's
Lizzie Kate's Halloween Rules
.
I'm not focusing on getting it framed for Halloween, but wouldn't it be great if I could finish it up by Halloween this year? Think good thoughts!!!
And what are you up to????
Take care everyone, thanks for stopping by!
Vivian