Ta-da!!!!!
Ok, I don't have a border on yet but I have an excuse...I don't have one yet. I'm heading on a roadtrip to Alaska next week and am planning on bringing it along as an excuse to stop in "several" quilt shops along the way.
This is
Counterpoint by Mountainpeek Creations
. I'll be honest with you, I found it very labour intensive...for me at least. Maybe because I changed it up a bit, instead of limiting myself to 3 or 4 fabrics I chose to use a fat quarter bundle I had in my stash ( Hanabi by Hana from
QH Textiles
). My sister had given me the bundle as a gift a couple of years ago.
Yay I finally got to use it Rose!!!!!
I didn't have enough of the red/white and black to do the whole quilt so I improvised with two other fabrics I found at the quilt shop. I don't know the fabric line they came from but I thought they worked.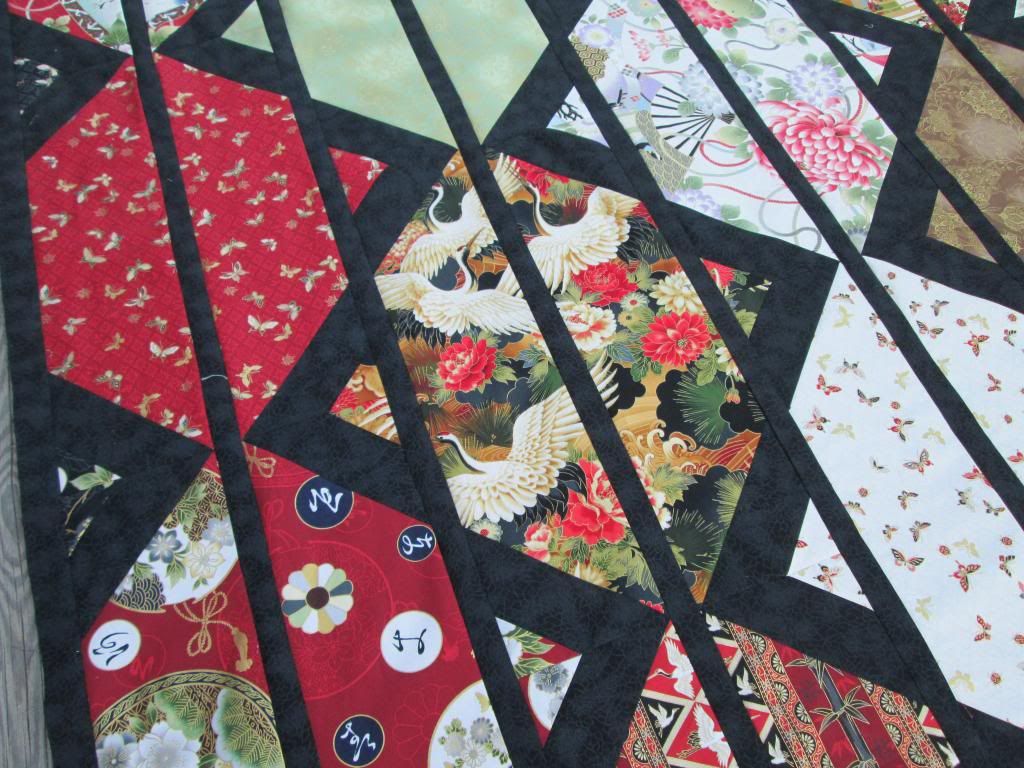 the beautiful birds
the elegant people
Instead of doing a separate colour for the triangle pieces I decided to use bits of my fat quarter fabrics. This created a bit of extra work in ensuring that they lined up in a way that made sense (beside the larger pieces).
I'm very pleased with how it turned out. This is twin size but it's quite large...maybe it'll fit a double? I'm currently at 82 3/4 inches by 60 3/4 inches. Once the border is on it'll be quite a bit bigger. Oh I can't wait to see what I can find!
My two buddies are also doing this quilt. We had hopes of getting together and working on our pieces in a mini-retreat like setting...but winter in the Yukon can change plans and we just never got together...so we're each working on them on our own. I can't wait to see how theirs turn out!
On to my scrappy project.
I have not yet done a true scrappy quilt. Anything that I've made that has the look came that way by purchasing all the fabric necessary...either in fat quarters or layer cakes or charm squares.
At our quilting retreat in June my friend Marylou was working on a scrappy project with the leftovers of a larger quilt she had made. They were 30's fabric...very cute.
When I saw them, I knew I had found a project to work on for the next 10 years. I know, I know, 10 years? That's so long...but hey, I know myself...I have UFOs from my first year of quilting (almost 5 years ago)...I cannot be trusted.
The block Marylou was using was called Puss in the Corner. It can be found everywhere by various names but I like this one and have taken to referring to it as Marylou's Puss in the Corner project. I'm doing mine the same size as hers...using 5 inch squares as my cutting size. Which is perfect for what I needed, I have lots of random charm squares left over from projects, a couple of layer cake squares and a bin of fat quarters that have been cut into for lengths. I took a 5 inch square from everything that was in the bin (excluding the batiks, I'll do something scrappy with those some other year). These are all fabrics that I have actually used in some way, shape or form. I feel so old school.
The pieces I cut from them were a 3 1/2 inch square, 3 1/2 by 1 1/2 inch rectangles, and a 1 1/2 inch square. I didn't realize how small those little squares would be, they are practically non-existent.
I separated them into various colour groupings and told myself the only rule I would make was that the centre square and the outside squares would be in the same colour family. Everything else is thrown to the wind and see what happens.
I'm excited by this project as I've been wanting something small that I could keep near the sewing machine to work on for 5 minutes at a time. Usually when I'm working on something I feel I have to devote an hour or more to it and then I don't have enough time and walk away. Now, I can sew a scrap and move on. Perfect!!!
I was keeping them stacked up nice and tight in that plastic bag (it took me a couple of hours of cutting at the retreat to do)...but now that I've officially started I need to go pick up a little plastic bin...with a lid so I don't lose any tiny pieces!!!! (I swear I lost an orange one somewhere today)
Here are my first 7 blocks.
A little squaring up and they'll be 5 1/2 inch squares. Aren't they just the cutest? I can't wait to see how the other blocks turn out.
Have a great week everyone, back to work tomorrow!!!
Vivian