I just love having time off...you get to relax, enjoy that cup of coffee and read a good book. All at your own pace.
With my sewing machine set up I can come and go as I please (who needs a kitchen anyway???).
When I was in Skagway a couple of months ago I picked up some darling fabric. I had no purpose for them, I just couldn't walk away. The main fabric is knitting llamas and there were two coordinating fabrics, one purple with balls of yarn and knitting needles and the other is all the colours used running in streaks. As I didn't have a plan I only picked up half yards of each, now I'm thinking I should have got more!
I cut into the fabric yesterday to make an armchair caddy. Perfect to hang over the arm of the couch or chair while doing cross stitching or hand sewing.
I learned to sew one in Bernina club in the spring. This one came together much quicker now that I know how to make it. I think all my friends need one!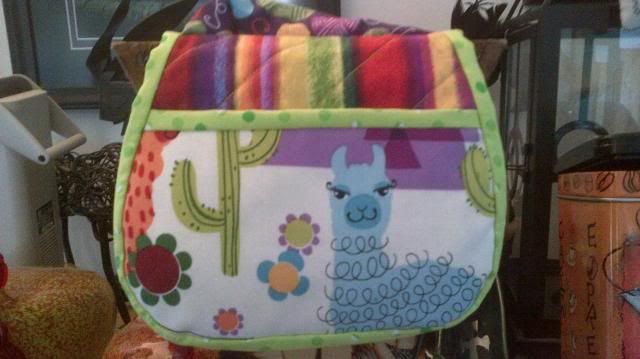 Isn't he just the most precious? I love that little llama. Here is a shot of the other side.
One thing I did learn was I should have cut the binding on the bias, it would have been easier to sew down. Unfortunately I didn't have enough of the greed dot (found in my stash) to do that and had to make do. It's ok on this piece as it's not meant as a flat piece, it works fine as it drapes over the arm of the chair.
I've also been working a bit at a time on my scrappy blocks (
Marylou's Puss in Corner
). I'm now up to 29 blocks and here are just a sampling.
I am really enjoying making these, and every time I believe I have made my favourite block another combination pops up and I like it more. I hope this quilt is as fun in the end as it's been so far. I laid out the pieces to get an idea of how I might lay it out later. It would be a riot of colour if I sewed the blocks together without a sashing, however, I'm considering finding a black fabric with little white dots to give it a whimsical feel.
I know, I have a long time before I decide but you know I'll be keeping my eye out for something over the coming months.
Have a good day!
Vivian