Oh I am making some headway on the 2012 mystery quilt!
Life got busy and I haven't touched this in months, I was barely into installment #5 when I moved on to other things. I eventually reached a point where I didn't feel I could pull it out while my 2011 mystery quilt was left undone. But if you look at my previous post you will see that I am now finished with 2011 and can fully concentrate on 2012. Wahoo!
When I was finally able to put the larger pieces together I was amazed with how it looked. My daughter said it was so yummy looking, like caramel.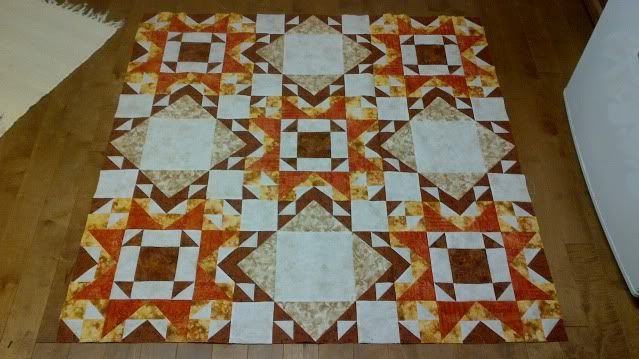 There are 4 border pieces on this quilt. Yes, 4, and 3 of them are mitered. I have never put 4 borders on anything before so I was very curious how it was/is going to look. I got two of them on and this is how it's going together.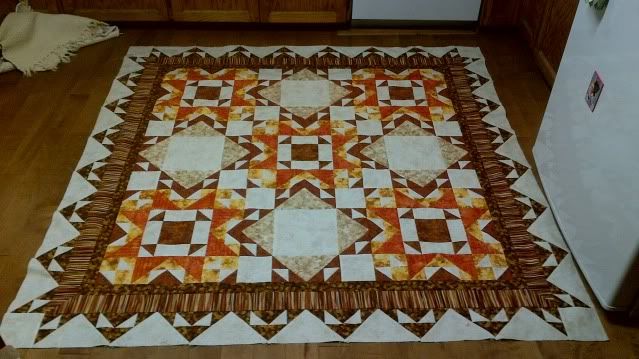 I was a quarter inch off on my size...so I had to do a tiny bit of trimming on the pieced border to make it fit. Personally I think after all this time and all the seaming that was done at different stages, I think trimming an 1/8 of an inch off each end is a small miracle.
I am so excited, as of this morning I am putting the final two borders on. It's going to be done today!!
Have a wonderful Thanksgiving weekend everyone, I'll be back when I have something spectacular to show you.
Vivian