Thanks for all your support, I really appreciate it. I really need to get a handle on this and stop spending money!!!
I am going to start my list, from memory because who wants to haul that all out? I would end up in a puddle in the middle of the floor unable to move for the rest of the day!
Here we go! (see how I included everyone? LOL, thank heavens I have you behind me)
Journey of a Quilter - a stitchery BOM. I think I am half way through. It's a beautiful piece that incorporates embroidery and silk fabrics.
Halloween quilt - a class piece using a Halloween themed jelly roll. I left it as far as I got in class. It was originally a twin size but if it gets only done as a wall hanging, I could live with that.
Fall wallhanging - another class piece. There is a lot of raw edge applique involved (many little berries!) and it got put aside and forgotten.
Halloween wallhanging - top is pieced, I just need backing fabric and some time to quilt it.
Stackables 2 - lap quilt using Parsons Gray fat quarters, top is pieced, its sandwiched for quilting and just waiting for me.
Parsons Gray - quilt using a fat quarter bundle. Top is pieced, I just need to seam the backing fabric and its ready to quilt.
French Braid - class project
One block wonder - class project (one of my first quilts, crappy 1/4 inch seams in places but the points line up, will need a lot of fray check when it comes time to quilt...I am a bit worried first washing will cause some of the thinner seams to fray, how the heck do the pieces fit with different seam allowances? I mustn't have been accurate with my cutting back then)
Sakura Park 9 patch - ready for quilting
Lynn Anderson quilt - a BOM of one of Lynne's quilts, I can't recall the name offhand. It's an applique and stitchery quilt. I have completed one block. So sad.
Cat 9 patch - I need to figure out a border.
3 suduko quilts - yes, 3 different ones, 2 need quilting, 1 needs a final border fabric and then backing.
Tiny suduko - placemat size suduko, just for fun.
2 Border Creek Mystery Quilts - one ready for quilting, the other is complete and I need to find backing fabric.
Buggy Barn tree skirt - just needs quilting
Buggy Barn - Hearts Come Home - just needs quilting.
Cafe Latte - class project, just needs quilting
Red and Grey winter quilt - need backing fabric and then quilting.
Green/floral wall hanging - can't recall, may just need quilting (first non class project)
Wiggly Snakes and Worms - needs to be quilted
That's all I can think of. Oh my gosh do I ever finish anything? I'm horrible aren't I?
Here's a small peek at my Journey of a Quilter, maybe I should pull it out first.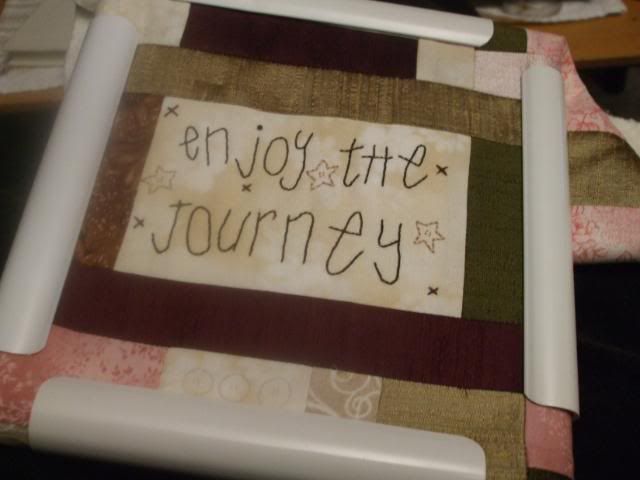 Enjoy your journey, thanks for following along on mine!
Vivian